Baird, Texas – Two pickups collide in truck accident.
Nov. 28th in Baird, Texas two pickups collided on state highway 36 in a head on truck accident. On Monday afternoon Texas Department of Public Safety responded to the truck accident where both drivers were injured and taken by ambulance to the hospital. The multi vehicle accident occurred about a mile from the Camp Pecan Bayou RV park. North and southbound lanes were closed down for quite some time as Texas DPS Officers investigated and then later removed the vehicles and debris from the highway. Residents were advised to avoid the area until the wreckage was cleared. Do you need a truck accident attorney?
Head on truck accident in Baird, TX.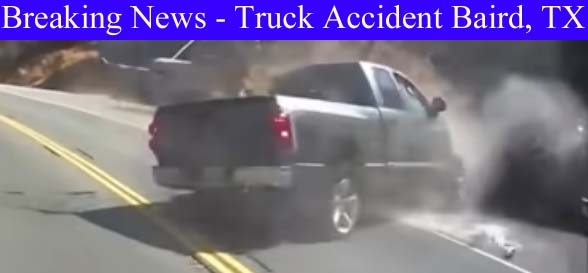 You'd be surprised to know that most accidents happen on days with optimal weather conditions. The sun was shining and the sky was clear when this truck accident occurred. There has been no word yet as to the extend of the accident injuries or to the cause of the accident. Traffic studies have shown in the past that vehicle drivers let their guard down when driving during nice days and may not pay attention as much as they do during inclement weather. Drivers also tend to speed more during nicer days. Could speed or driver distraction have played a factor in this truck accident? DPS ultimately will make a report of the scene and describe what they feel occurred.
The worst truck accidents occur on the nicest days.
When you are injured in a truck accident in Baird, Texas it is important to contact a truck accident attorney to help you fight to make you whole again. Contact Low Law Firm and speak with an accident attorney for a free consultation. We can help guide you through the legal pathways to ensure those responsible for your injuries cover the costs related to the accident.
Don't be victimized again after a truck accident by the hospitals and insurance companies who are looking out for their own best interests. You need a legal team to fight for your best interests. Speak with an accident attorney today at the Low Law Firm and see how we can help.