Truck Accident Lawyer lessons. Make room for those 18 wheelers.
THE INJURY LADY SAYS: Make room for the big trucks! And maybe the smaller ones, too. Lessons from a truck accident lawyer in Abilene, TX. Most of you reading this probably live in West Texas. What does that mean? It means wide open spaces, wind, dirt, and interstate highways as far as the eye can see and truck accidents. Everyday thousands of tractor trailers/18-wheelers enter our roadways to transport products, equipment, vehicles, etc. What does that mean for the drivers in this area?
It means you need to make room for the big trucks! Avoid tractor trailer accidents. Believe me, I get it, we get offended these guys share the road with us and they don't watch where they are going, they change lanes when they want to, they pay no attention to speed laws, they basically do whatever it is that they want to do to accomplish their goal, right?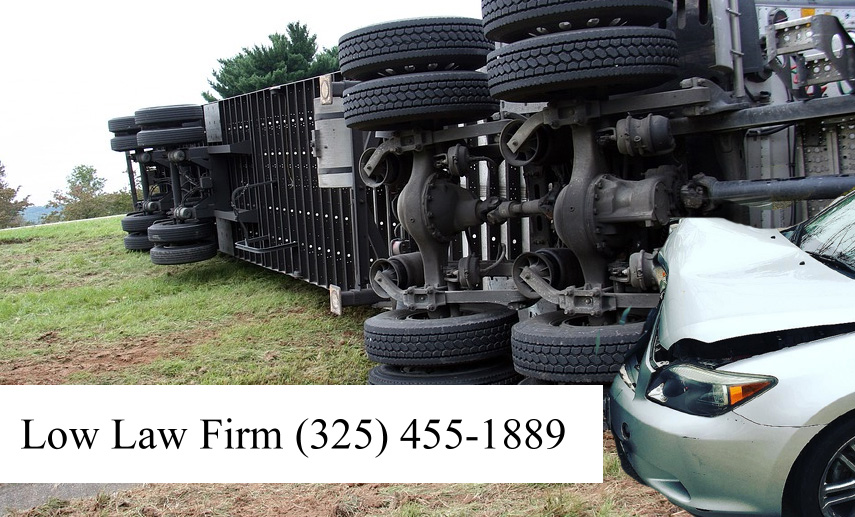 Well, yes and no. I am the daughter of a trucker so I might have a little bit different perspective on it. However, whatever your feelings about these trucks, the one simple truth we all share is that we need to be cautious of them and give them some room.
Truck accidents and commercial motor vehicle accidents, this includes all commercial type vehicles, not just big rigs, accounted for 29,356 crashes in the state of Texas in 2013. A truck accident lawyer in Abilene can help.
Of those truck accidents, 453 resulted in a fatality and 4,125 resulted in serious injury. (http://ftp.dot.state.tx.us/pub/txdot-info/trf/crash_statistics/2013/29-2013.pdf)
This begs the question…are the trucking companies putting these vehicles on the road REALLY making safety their priority? Well, let me give you some more statistics. Each year the Texas Department of Public Safety performs a check of commercial motor vehicles traveling the state's roadways. The 2014 inspection was conducted from June 3 through June 5. In that inspection 8,714 commercial motor vehicles were inspected for compliance with state and federal safety laws. Of those 8,714 vehicles inspected 21% were placed out of service for safety violations. That equates to 1,858 commercial motor vehicles traveling your state's roadways that were not in compliance with state and/or federal safety regulations. In addition, 263 drivers were also placed out of service for various safety violations. (http://www.dps.texas.gov/director_staff/media_and_communications/2014/pr070914.htm)
What does this mean to you? It means that in just that three day period 21% of the trucks inspected on the roadway were unsafe and could have collided with you, a family member, loved one, or friend. Tractor Trailer type vehicles, specifically, are large heavy vehicles. They are designed to transport large shipments and arrive at their destination in a specific time frame. Wouldn't it be nice to know that while you are driving on the highways or roadways with these large trucks that safety is their top priority? Wouldn't it be nice to rest assured that while your spouse, child, or parent are also sharing the road with these large trucks safety and avoiding truck accidents is their top priority?
The unfortunate truth that we all must face is that that is not always the case. Profits tend to win out over safety, and trucking companies frequently become complacent in their safety procedures, which leads to truck accidents.
As a result, truck accidents happen and people are injured or killed.
If you are involved in a tractor trailer accident with an 18-wheeler or another type of commercial vehicle, keep these things in mind:
Take pictures;

Get the names of any witnesses;

Talk to the driver (if possible); and

Come talk to a truck accident lawyer, immediately

. (MOST IMPORTANT!)
You will no doubt need an injury attorney to handle this type of matter, and the sooner you hire me, the better the chance of preserving vital evidence.