Abilene, Texas – Overland Trail car accident attributed to heavy rains.
A car accident on Overland Trail occurred during heavy rains. Anyone who lives in Abilene, Texas knows it doesn't rain often but when it does, roads can become very hazardous. Around midnight on October 27th, a car and truck accident occurred on Overland Trail. The car accident driver in an automobile traveling east came into contact with an 18 wheeler that caused the car to flip and land in the grass along the roadway. Abilene Police reported minor injuries to the driver of the car.
Heavy rains can flood Abilene roads quickly and lead to truck accidents.
Much of the drainage for rainwater in Abilene occurs alongside the roadway. Such bar ditches can quickly swell and overflow into the roadway itself. When the roadway is covered with even a small amount of water, the likelihood of a car hydroplaning and losing control increases dramatically. The federal government has an entire department that focuses on highway drainage and creates road construction standards.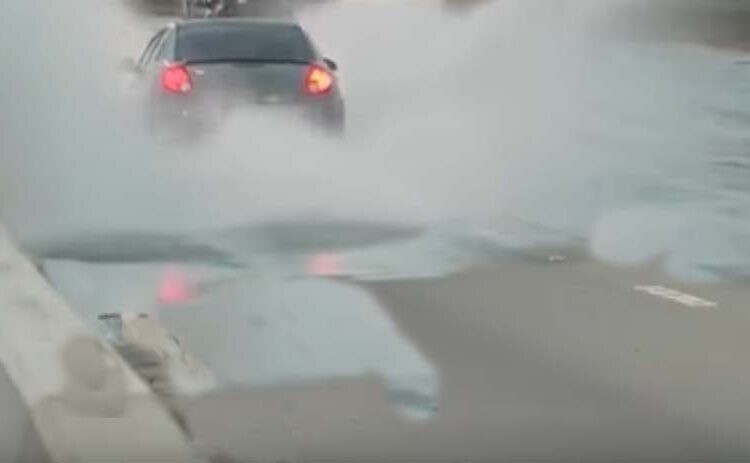 These standards are designed, for the most part, to deal with average amounts of rainfall. On the night of this car accident, there was a rainfall total of over two inches which quickly overwhelmed the drainage along Overland Trail. A mixture of vehicles driving at unsafe speeds and rainfall accumulating on the road surface led to this driver losing control of his vehicle.
18 wheeled trucks accidents increase during times of heavy rain.
The best thing you can do when driving your car or truck in times of heavy rain is slow down. The less speed you are traveling at reduces the force the vehicle has to exert if you lose control. Slowing down will lead to less damage in the event of a truck accident and potentially less injuries. Throughout the year, check the condition of your car or trucks tires. Make sure the tires are inflated to the proper psi levels and be sure to check the depth of the tires tread. As a tire wears, the depth of tread is reduced. A reduction in tread leads to an inability in the tire to channel water out the sides. The less water there is between the tire and the roadway improves the tires ability to maintain traction.
Ways to avoid truck accidents in Abilene, Texas.
Be aware when driving your car or truck in Abilene, Texas. Avoid driving in times of heavy rain. Truck accidents in Abilene can be reduced or avoided if you slow down while driving during inclement weather. If you do find yourself in a car accident or truck accident in Abilene, Clyde, Buffalo Gap, Lawn, Tuscola, Potosi, or other surrounding areas, seek out medical treatment immediately. Your next step should be to contact a car accident attorney at the Low Law Firm to help assist you in navigating your next path.