Early, Texas – Teacher aide arrest for sex crimes.
A teacher's aide in the Early, Texas school system has been charged with sex crimes against a student. The aide was taken into custody last Thursday and arrested for improper relationship between educator and student. An investigation into the teacher aide's activity started last September. If you have been arrested on any sex crime charges you need a sex crimes lawyer. This is not a charge you want to try and handle by yourself.
Speak with a sex crimes attorney.
The teacher's aide had initially been suspended following an outcry by the student's parents. Following the sex crimes investigation, the aide was terminated from their employment. Currently this individual is booked in the Brown County Jail where they remain on a $400,000 bond. The Early, TX independent school district has yet to make a statement on the current situation.
The charge of Improper Relationship Between an Educator and a Student is a second degree felony. It is punishable by up to 20 years in jail and a fine of up to $10,000. Under the Texas Penal Code § 21.12 (b) a school employee of a public or private school commits such an offense if the employee either engages in sexual contact, sexual intercourse, or deviate sexual intercourse with a person who is enrolled in the school at which the employee works or holds a position described by Section 21.003(a) or (b) in the educational institution. They can be charged with such a crime regardless of whether the employee holds the appropriate certificate, permit, license, or credential for the position, and engages in sexual contact, sexual intercourse, or deviate sexual intercourse with a person the employee knows is a student.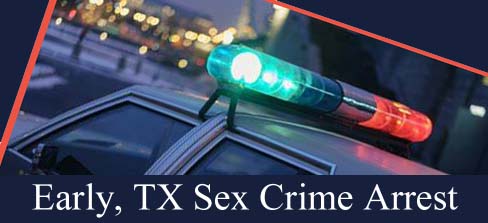 If you are arrested for a sex crime in the state of Texas, it is important you speak with a sex crimes attorney before you consider giving any kind of statement to the police. Any statements you make to law enforcement can and will be used against you. Talk to a lawyer first and have them help you prepare a defense for the crimes you are charged with.
A sex crimes lawyer can help defend you in a court of law.
The Low Law Firm can help you handle your sex crimes criminal defense. A sex crimes attorney understands the law and knows what elements need to be included in such a criminal charge. Do the charges apply to the facts of the case or are they an over reach. A sex crimes attorney can work up your defense and investigate your side of the story to present your view point. Just because you are charge with a crime, doesn't mean you are guilty of the charges. Talk to a sex crimes attorney today.